Find out how Alphanumeric delivered a highly effective, multilingual clinical application service desk for one of the world's leading pharmaceutical and healthcare companies — all in less than one month.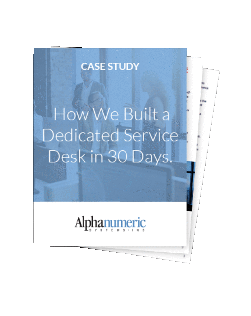 Successful Outcomes Included:

Customer service improvements with no down- time, minimal call wait times and more than 60% first-time call resolution.

Positive customer satisfaction rating from greater than 90% of respondents.
With the help of Alphanumeric, this global healthcare company was able to turn a difficult situation into a positive change that not only avoided disruption, but put in place a multilingual service desk operation and learning platform positioned for the future.
Sign up and instantly receive your complimentary copy!