We Speak Robot. Do you?
Alphanumeric partnered with a global enterprise to facilitate faster adoption of Artificial Intelligence in its Service Desk. Industry-leading Service Desk experience, coupled with an innovative approach to AI integration, yielded significant incident resolution improvements.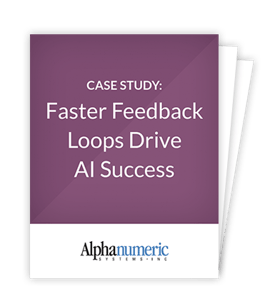 Immediate benefits of our services included:
Shortened refresh cycle from 30-60 days to daily
Increased resolution rates by 147% within one month
AI ticket volume quadrupled, from 300 to over 1,200 tickets monthly
Resolution rates beat industry standards by 42%
What needs to be understood with AI technology is that it is very much still in its infancy. And, much like a human child, sometimes the bot needs to have its hand held. Alphanumeric's experience and expertise in Service Desk allows them to bridge the gap between AI bot and end-user, providing that helping hand along the way.
Sign up and instantly receive your complimentary copy!